I went to Aso after a long absence.
It is Mt. Nakadake of Aso.
It is the first time since the earthquake.
In 2017 the bridge named Changyang Ohashi was restored open!
So, perhaps it seems like arriving earlier than before the earthquake. . .
Kusousenri
With the newly opened Changyang Ohashi Route running nationwide Route 57 straight ahead it will take you to the intersection where you can see a lunchbox called "Hirai's Lunch box" on your left.
Turn right there.
When you go straight ahead it is closed to 800 meters.
Turn right here.
Proceed along the road and you will pass the Changyang Bridge.
It is like this. This is Changyang Bridge.
When crossing the bridge and traveling by car for another 20 minutes it is "Kusasenri"!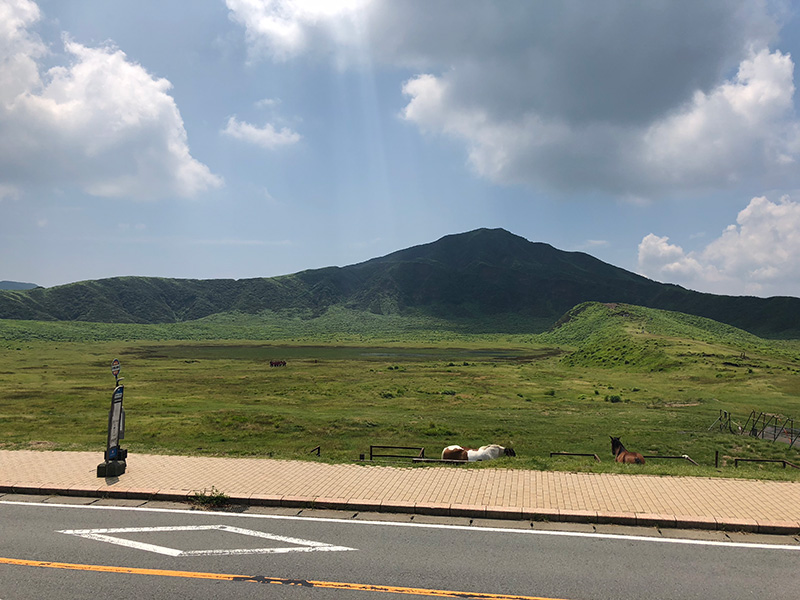 The temperature is 26 degrees. The sun was hot, but it was not a harsh heat. Feeling that it is easy to spend.
What is Kususenri?
A double crater where about 400 m of crater arises in a crater of about 1 km in diameter formed about 30 thousand years ago. Currently two ponds can be seen, the pond on the west side is the bottom of the crater outside and the pond on the east is the inside crater.

The inner crater is one in which the dacite quality lava dome was blown away, and a part of it remained as "Komagami mountain". Pumice which is the ejecta of Kusadokahama volcano is a welded pyroclastic rock in the vicinity, but it is recognized as a thick pumice stone layer when leaving a little.
Winter becomes naturally a silver world.
It is recommended sightseeing spots in summer and winter. However, it is extremely cold in winter. Tire chain is necessary.
The parking lot was 400 yen on a regular car.
Please do it for free. . .
And at the parking lot there are cafes, souvenir shops and volcanic museums.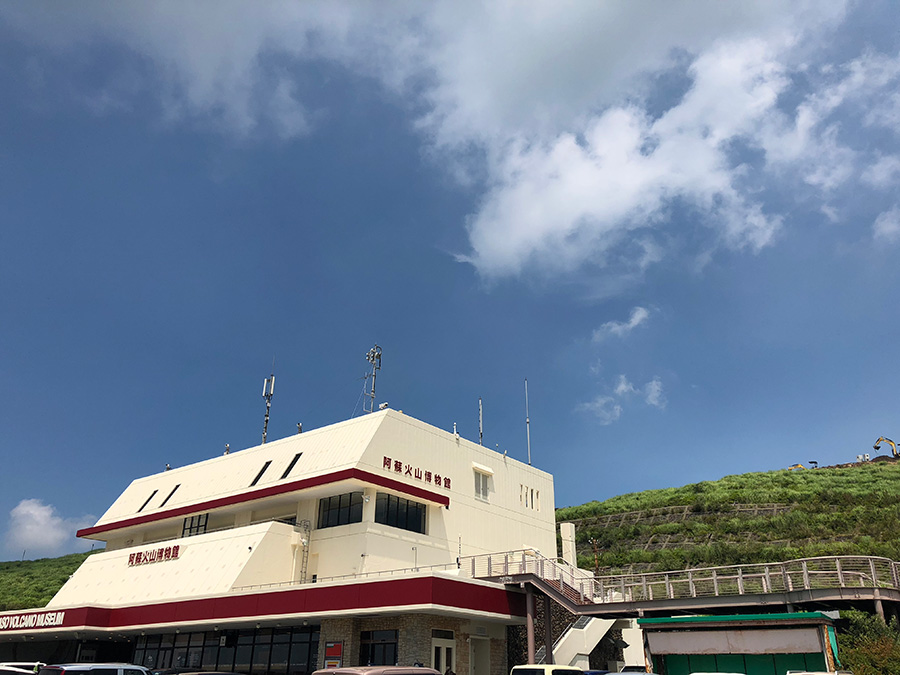 Kusousenri's shop
I think that I came for the first time in 15 years.
It became fashionable and the shop changed.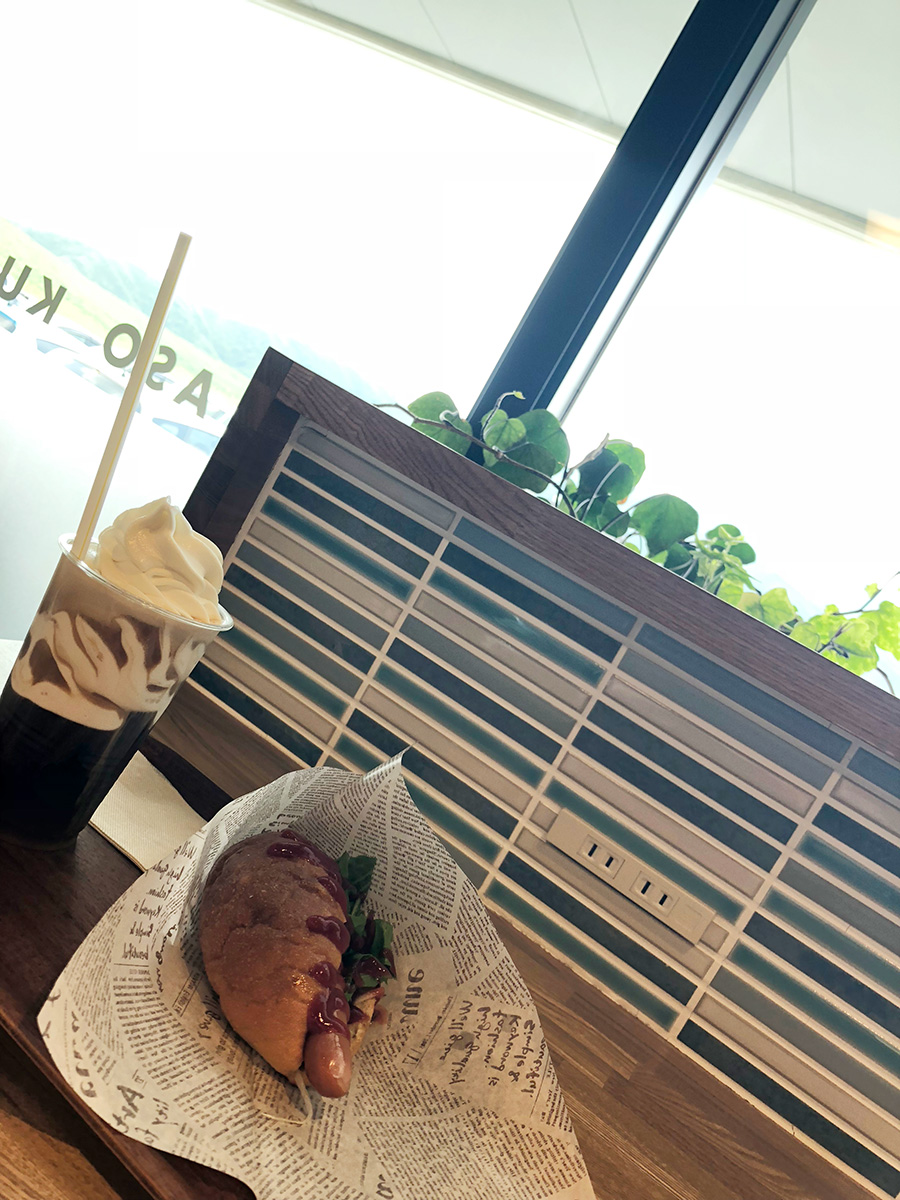 There was a stylish cafe at the volcano museum.
The photo is Aso Takashina Dog. There was a tambourine under the sausage.
It costs 1000 yen with coffee float.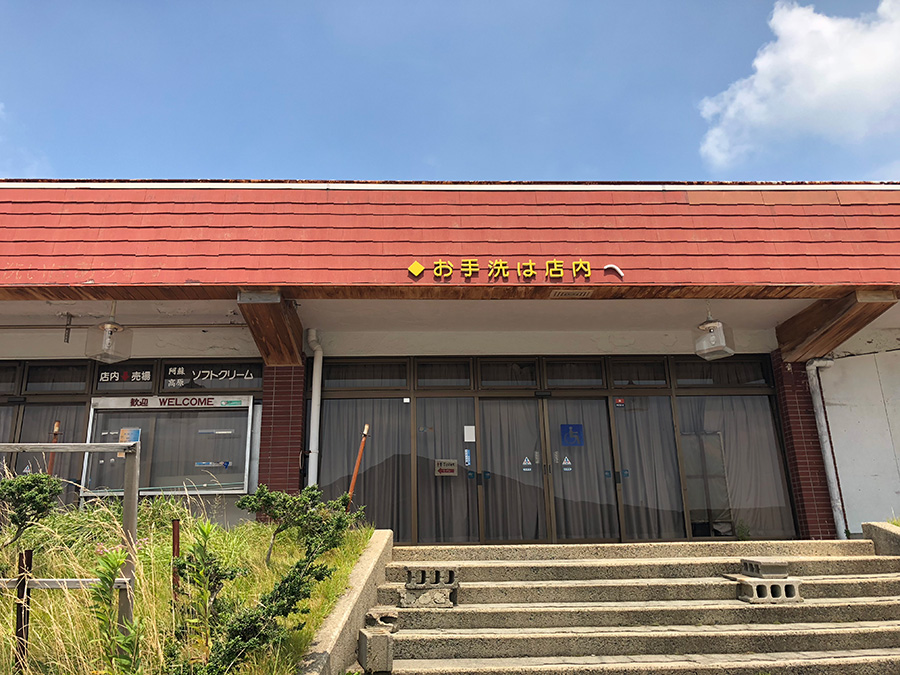 Next to the museum there is a toilet facility, next to the "Kusousenri rest house".
However, it seems that it is already out of business. .
And next to that. . .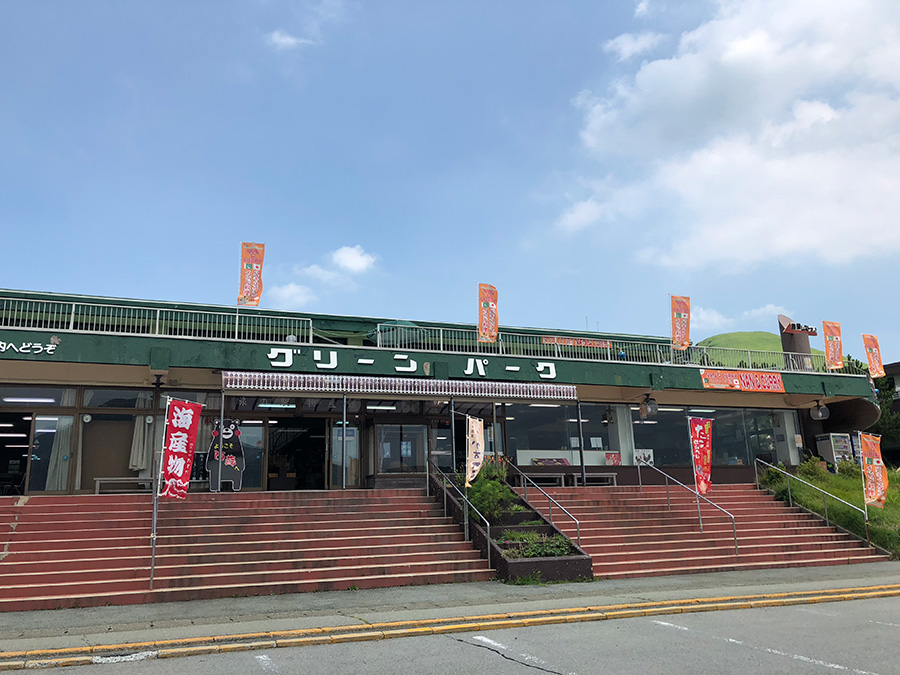 A souvenir shop called Green Park.
It seems there is something on the 2nd floor too, so I tried it. .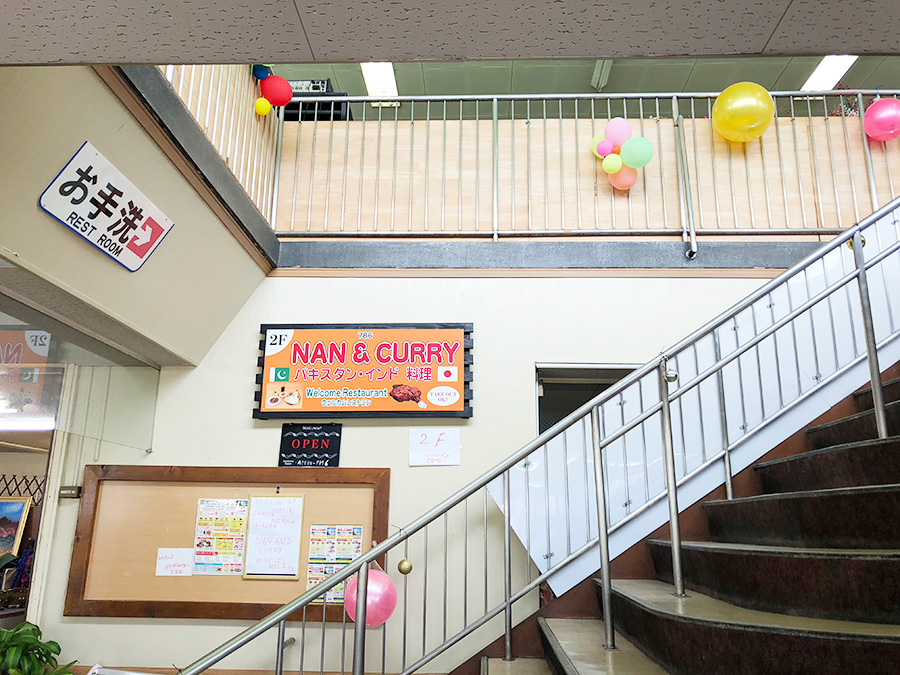 The second floor is Indian food of Pakistan!
Why! What?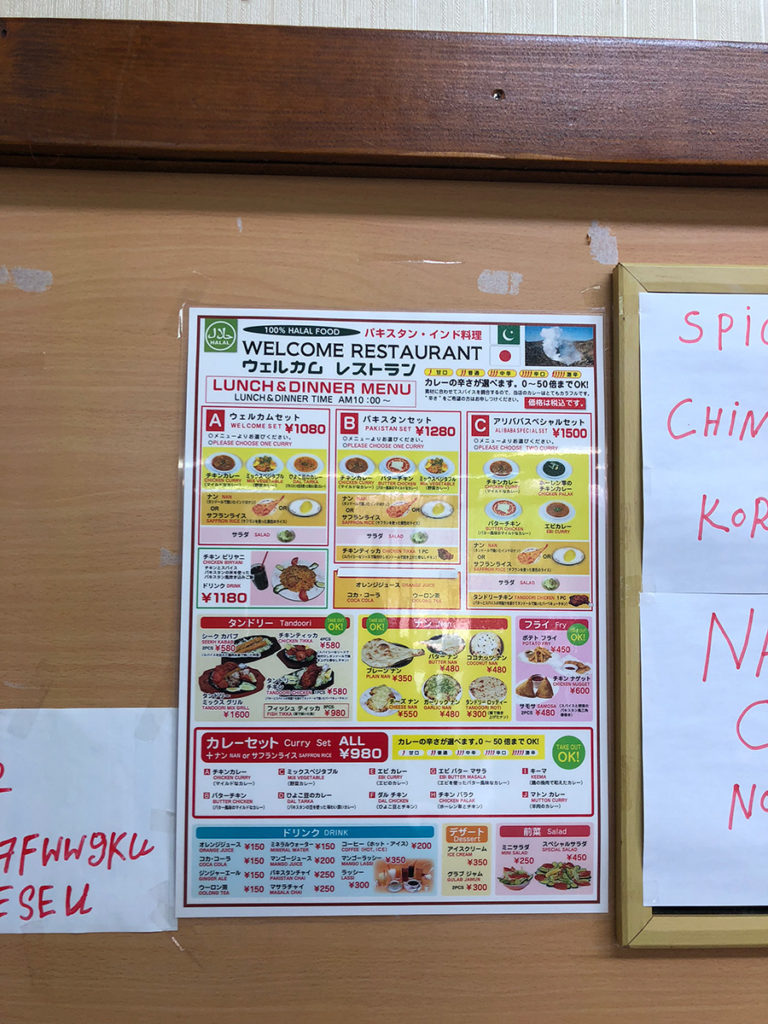 I ate Aso Takashina dog, so I did through this time but eat it next time.
However, it is rather funny and funny
。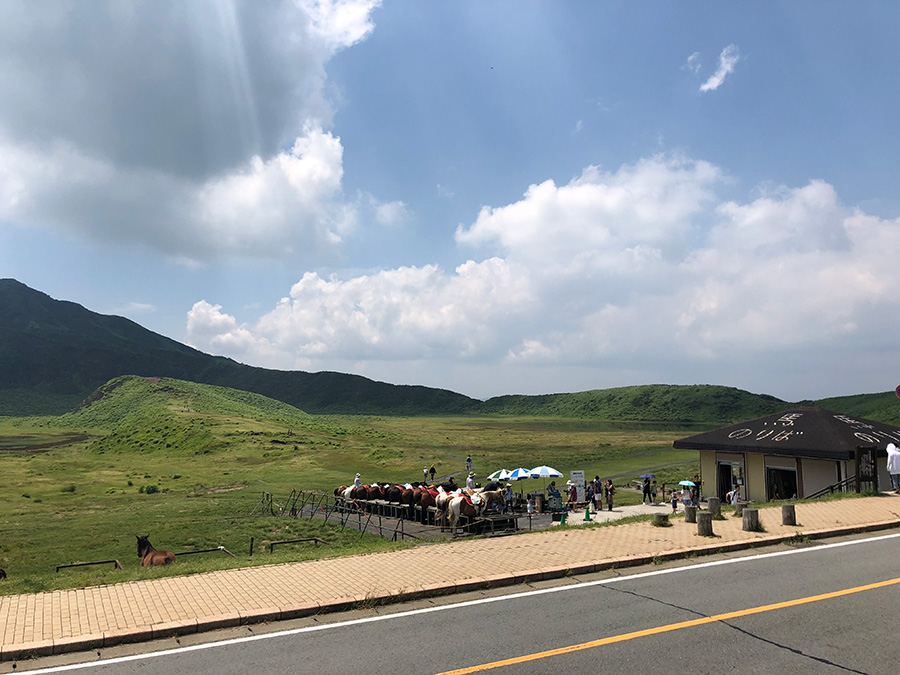 There are "Majors riding" at Kususato, and you can enjoy a stroll on a horse.
There is a memory that I got on about the third grade of elementary school students.
Prices
· A course 1,500 yen (one seat) 2,500 yen (two seater) About 5 minutes
· B course 4,000 yen (for one person) 6,000 yen (for two people) About 20 minutes
· C course 5,000 yen (for one person) 8,000 yen (for two people) About 25 minutes
I wish for 20 minutes. .
But what is the 25 minute step? . .
Well, I will move from Kusenri to the vicinity of the crater of Aso Nakadake.
Aso crater
It is about 5 minutes by car from Kusenri to the foot of Aso crater. It's soon.
Although I forgot to take a picture on the way I was doing a service that could take a helicopter.
This.
About 20 tourists were making rows when I was far away.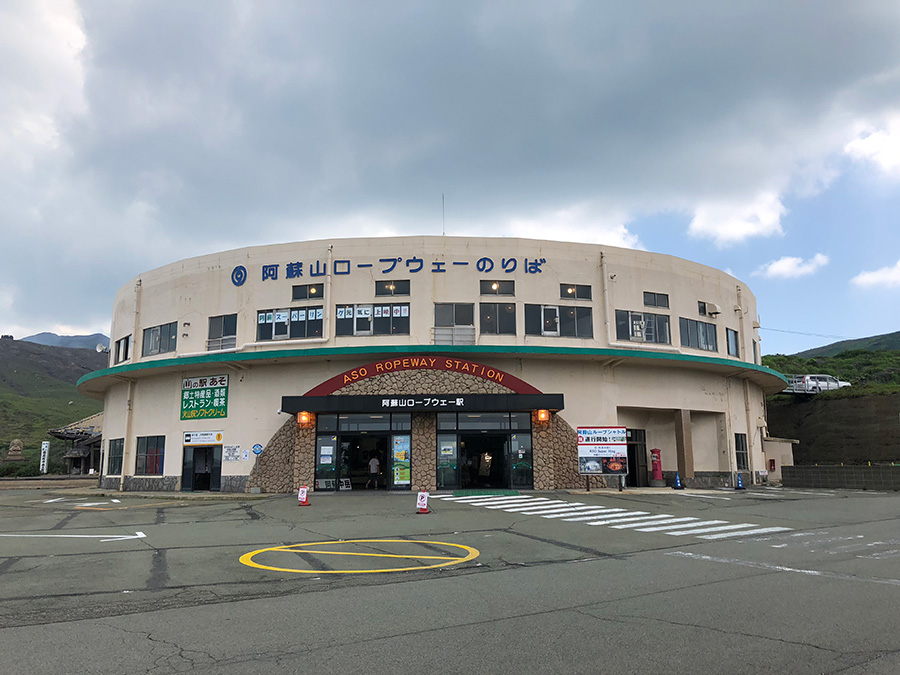 Arrived at the foot of the crater.
You can stop here and go to the ropeway. . .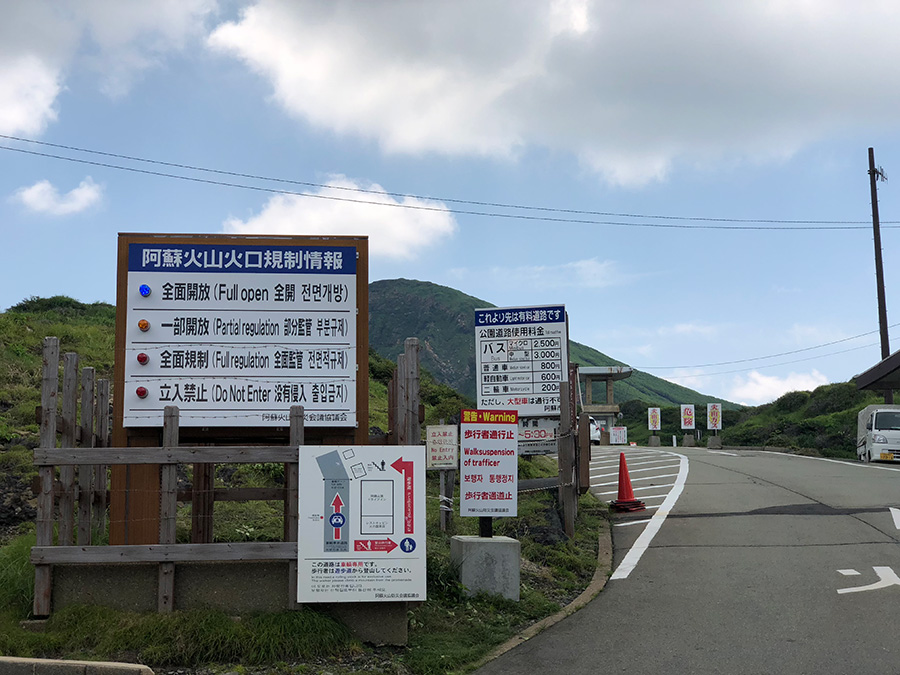 You can also drive by using a toll road.
The crater of Mt. Aso is the "Nakadake" of Aso.
In Aso there is Aso Gokutake
* Nakadake 1,506 m
* Netsukendake 1,408 meters
* Oro Mountain 1,337 m
* Takadake 1,592 m
* Kijima-dake 1,270 m
One of them is an active volcano only in the middle.
And even now Nakadake is still erupting.
Mt. Nakadake of Aso who can peek at such crater casually seems to be quite unusual tourist resources! !
Magma is not activating the wower, but it seems to be a very unusual place called Crater Crater, which you can go with high heels on casual clothes.
It seems that there are not such rare places in the world (few). . .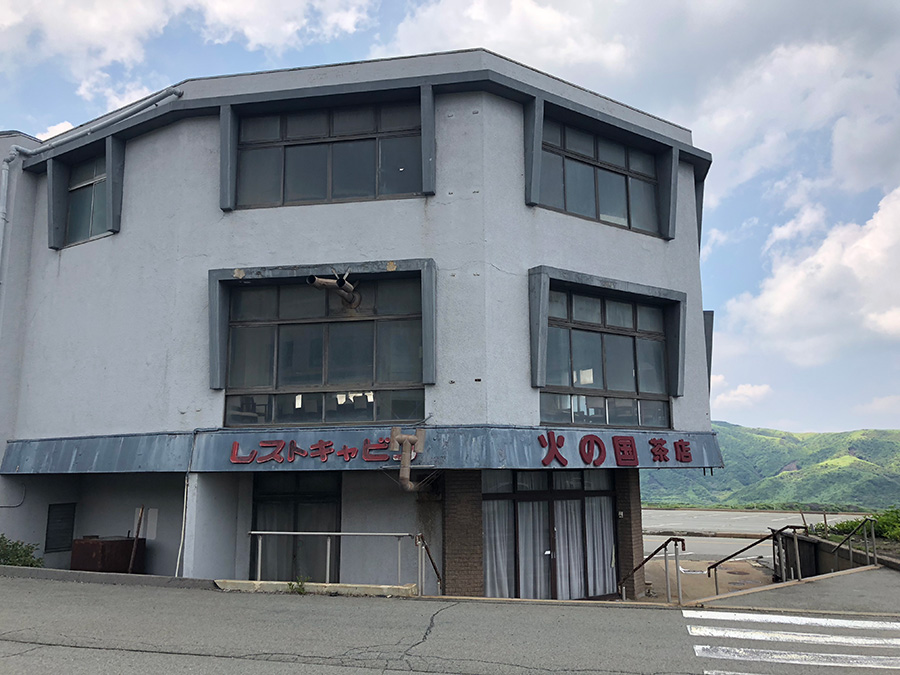 It is not lively. . .
People are sparsely. . .
Well, it's a weekday, but still more PR as a global sight. . .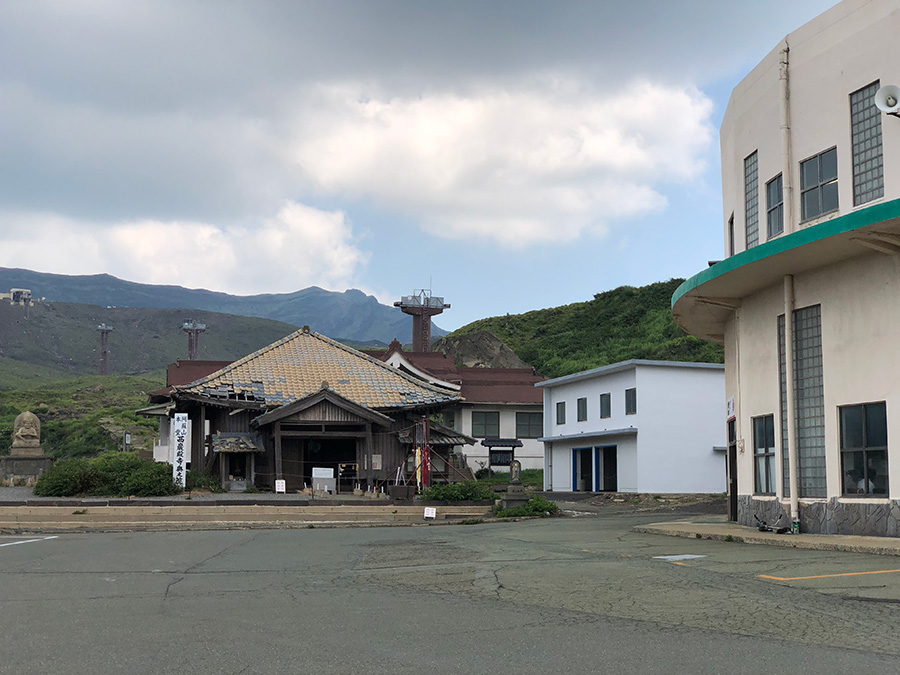 Is this a trace of the Kumamoto earthquake? It is painful.
Summary
Spare tourists on weekdays.
It is easy to spend the temperature of 26 degrees even on a hot summer day.